RAMP GAME PORTAL
---
Please go to Ontario Women's Hockey Association : Website by RAMP InterActive (owha.on.ca) for full details on how to and when to add games to the Gamesheet App
NOTE: If you are creating none league games, you must create them under "PORTAL GAMES". The instructions below are the same for setting up both types of games.
Non-League Games are exhibition games, and tournament games
League Games Details and Location
League games are for sanctioned league play under the OWHA.
For exhibition games please refer to the portal game instructions.
After signing in with your OWHA Team Login you can Access League Games Page In the left-hand menu.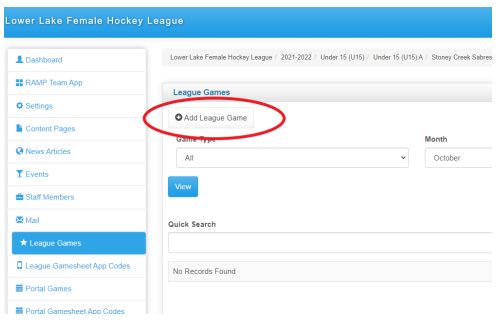 Under League Games menu you can see any League Games you have created, or that have been created by another team with you as the visitor.
Creating Of League Games
At the top of the League Games page is a "Add League Game" button that will take you to the add game interface.
Select the Opposing Team, Start Time, End Time, and Date. There is also a notes field where you can add information such as a Game Curfew if needed. Hit submit after entering these fields to create the game.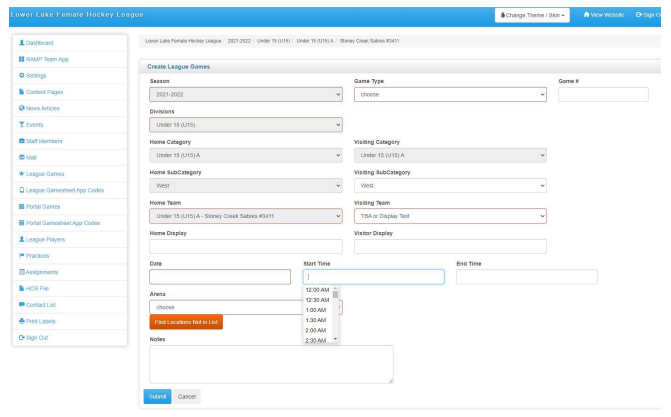 Games can only be created against a team in your subgrouping (east, west, north, etc), and your team will always be the home team for the games you create on this page.
Your team will have the ability to add, edit, and delete created games until the league passes its scheduling deadline and turns off that functionality.
Viewing League Gamesheet Codes
After signing in with your OWHA Team Login you can Gamesheet App Codes on the left-hand menu.
After clicking on the League Gamesheet App Codes Menu, you will be able to see the Gamesheet codes for all League Games that have been created for your team. If you are the home team you will see all codes, and if the visitor team just the visitor code.